ATJAUNOJAMĀ ENERĢIJA ENERGOEFEKTIVITĀTE
The fourth webinar "Challenges and opportunities for district heating system`s modernization in Latvia" has been concluded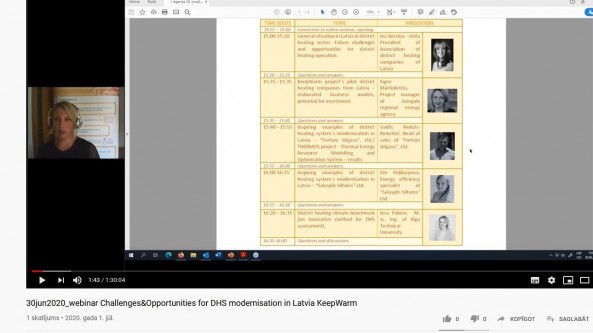 01.07.2020
With the fourth webinar of the KeepWarm project organized by ZREA on 30/06/2020., in which 27 persons participated, the KeepWarm project Inspire Events in Latvia have been completed.
In the introduction of webinar, the president of the Latvian Association of district heating companies of Latvia (LSUA) Ina Berzina - Veita talked about the general situation in the field of district heating in Latvia and the future challenges and opportunities associated with it.
ZREA project manager Signe Martinkrista presented EU Horizon 2020 program's KeepWarm project`s approach and its application in Latvia.
Regarding the experience of upgrading the biomass cogeneration plant of "Fortum Jelgava" Ltd. and the results of the Horizon2020 program's THERMOS project were reported by Valdis Rieks-Riekstins, head of the sales of "Fortum Jelgava", Ltd.
Ilze Polikarpova, the energy efficiency specialist of the district heating company "Salaspils Siltums", Ltd. presented about the experience of modernization of "Salaspils Siltums", Ltd.
In conclusion, researcher of Riga Technical University, M. sc.ing., Ieva Pakere, talked about an innovative method for assessment of district heating systems.
All presentations and webinar recording are available here.
Documents
Ina Berzina Veita LSUA
Valdis Rieksts Riekstins Fortum Jelgava
Signe Martinkrista ZREA
Ieva Pakere RTU
Ilze Polikarpova Salaspils Siltums
Par šajā mājas lapā publicētās informācijas saturu atbild tās autori. Tajā ne vienmēr ir pausts Eiropas Kopienu viedoklis. Eiropas Komisija neatbild par ievietotās informācijas izmantošanu.